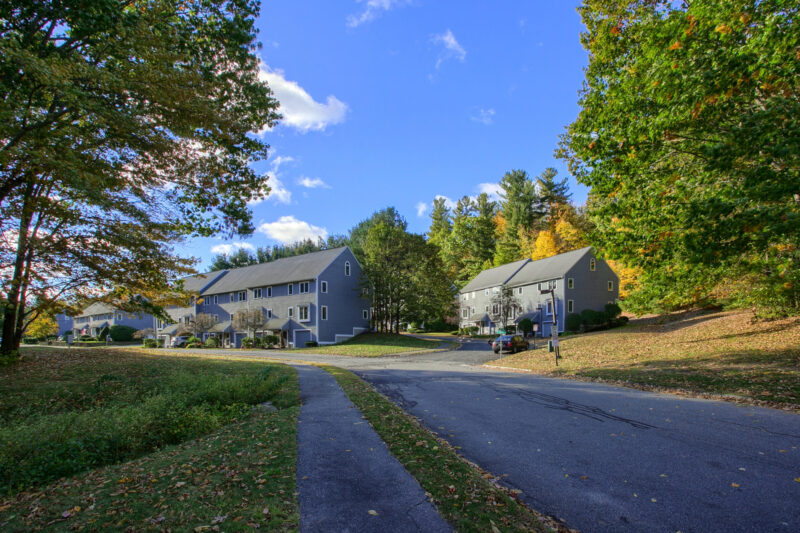 Being a former Country Hollow Village unit owner of 10 years and condo board trustee for 8, Ron Carpenito holds unprecedented insight and knowledge into the benefits and features and care of this complex as well as relationships that you can benefit from when moving in or out of the complex. Let us be your guide today to Country Hollow Village!
Country Hollow Village in Haverhill MA was built in the late 80's between 1986 and 1988 in multiple phases by different builders. This 90 unit townhouse style complex sits in the country side of Haverhill MA, nestled in between North Broadway and Hilldale Ave close to the Atkinson and Plaistow NH border. One if its main benefits is its quiet, low traffic location and beautiful grounds.
Find out what your Country Hollow Village Home is worth!
There are 2 different style town homes with 2 different layouts each, plus 2 detached town homes that feel and look like small houses. The first style of town home has a garage under configuration, with 2 bedrooms and a loft that is accessible from the master bedroom with 1.5 baths. The second has an unfinished basement (some with walkouts, others with bulkheads) and a detached garage. Each unit also comes with a small deck off a back door slider.
There are two different layout choices to the first floor. One style has a larger living room/dining room combo area with a smaller galley style kitchen, while the other has a small more traditional living room separated by a hallway and half bath and then kitchen. Unit sizes are all pretty much the same (except for the detached town homes) coming in around 1500 square feet not including the basement. The stand alone detached town homes are larger with more rooms and an attached garage coming in around 1850 square feet not including the basement.
Click to Schedule Your Personal Home Sale Consultation Now
Each unit comes with 2 parking spots (1 in the garage, and one in your driveway) Visitor parking is available down on Country Meadow Lane. Professional offsite management handles all the exterior maintenance and the fee includes: Exterior Maintenance, Landscaping, Snow Removal. Condo fees begin in the $190's for the attached, garage under style and go higher for the larger detached style unit. Close to local shopping, amenities and access to Rts 495. Pets are allowed.
Sale prices in Country Hollow Village in 2021: $312,000 – $350,000
---
Townhomes Currently for Sale at Country Hollow Village:
Browse More Local Condominium Communities:
Andover Condominium Communities
Haverhill Condominium Communities
North Andover Condominium Communities
Tewksbury Condominium Communities