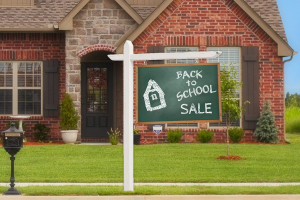 It's the question most home buyers ask: When is the best time of year to buy a home?
The answer: September could be the best month all year to sign a contract to buy a home.
Why? Multiple factors are coming together to make this September unique.

The first factor is supply. Buyers will now have more choices than they have had for the past 10 months. According to realtor.com® visitors, the single biggest factor holding back buyers from making a purchase all year long has been the inability to find a home that meets their needs. That's because both existing- and new-home supply has been tight all year. Happily, listings inventory on realtor.com has been growing all spring and summer, a pattern that continued into August. As of the third week in August, inventory was at 1.91 million units, up 3% from July and up 21% from January.
Normally inventory peaks in August and begins to slow as the nights grow longer. But this year the typical seasonal decline will start a bit later. There will be more choices in September than any other month in 2015.
The second factor is demand. Now that school has started, demand has already started to decline. You can see the evidence in the non-seasonally adjusted pending home sales data reported by the National Association of Realtors® last week. The nonseasonal estimated number of new contract signings in July was down 12% from June. This kind of decline is entirely normal for July, since most contracts signed in July won't close until after school starts.
And, of course, with less competition for the most listings all year, pricing power weakens as inventory takes longer to sell.
The seasonal pattern to pricing and median age of inventory tells us that the best deals come in the dead of winter. Signing a contract in September will likely mean you could close before Thanksgiving. That means September buyers won't have as much moving hassle from winter weather, since for most of the country the threat of snow and ice picks up in December.
The third, and final, factor: the current low level of mortgage rates. Thirty-year fixed rates ended last week under 4% as a result of the recent stock market declines—sometimes a little turbulence in one area stabilizes others.
Why pay more later when you can pay less today? The average 30-year fixed rate touched 4.2% in June but has since pulled back and danced around 4%. Rates are likely to be closer to that June peak by the end of the year. So signing a contract to buy a home soon would enable buyers to lock in today's lower rates before they start their long-awaited ascent.
With low rates, more choices, less competition, lower prices, and the chance to move before "harsh winter" enters our regular vocabulary again—this September sounds pretty enticing, especially if you're ready and have been looking but unable to buy so far this year.
Article by: Jonathan Smoke, chief economist of realtor.com, where he analyzes real estate data and trends to develop market insights for the consumer.
Here's how we can help you find your next home, and use our home search tools to see what homes are available now!