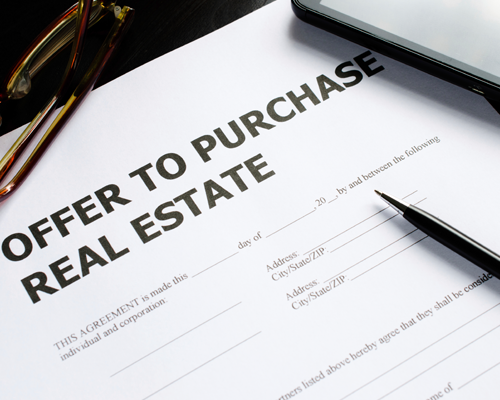 You've been searching for weeks or months and you've finally found it. Now what? How do your write an offer that has the best chance of being accepted on the first shot? You'd be surprised how much goes into analyzing the situation to determine how you should proceed. Writing an offer is SERIOUS business, and a lot goes into an offer STRATEGY, beyond just what the price might be.
There are many steps to preparing an offer and it all involves asking a lot of up front questions to determine the overall situation, and what you're capable and willing to do as a buyer.
Analyzing the overall market conditions in the location your purchasing to determine any advantage or disadvantage is an important first step. This means looking at absorption rates, days on market, on market competition, and recent sold property that is similar to the home you're buying.
Next, your agent should do their best to determine any seller motivation to help frame your offer in a way that might appeal to the seller in exchange for something that might appeal to you..or perhaps win the home over another competing offer.
There are many other facets to an offer that need consideration like contingencies that give you an "out" from the deal with your deposits returned, time frames to complete steps along the way and close on the home, inclusions and exclusions from the sale, financing options, repair requests, your lenders pre-approval letter and maybe even a personal letter from you to appeal to the emotional side of a seller if it might help in the particular situation.
The point is, no two offer strategies are the same, it is not a Black or White process. Preparing an offer is one part systematic and two parts artful and it all comes together to paint a picture that will either be accepted, countered, rejected or ignored by the seller.
That's why working with an expert, who is experienced and skilled with offer strategies and negotiations will give you the best chance of success in acquiring your home.
Contact us today to help or to refer you to a skilled agent in your location anywhere in the country.
Home Selling Resources
Home Buying Resources